ABOUT US...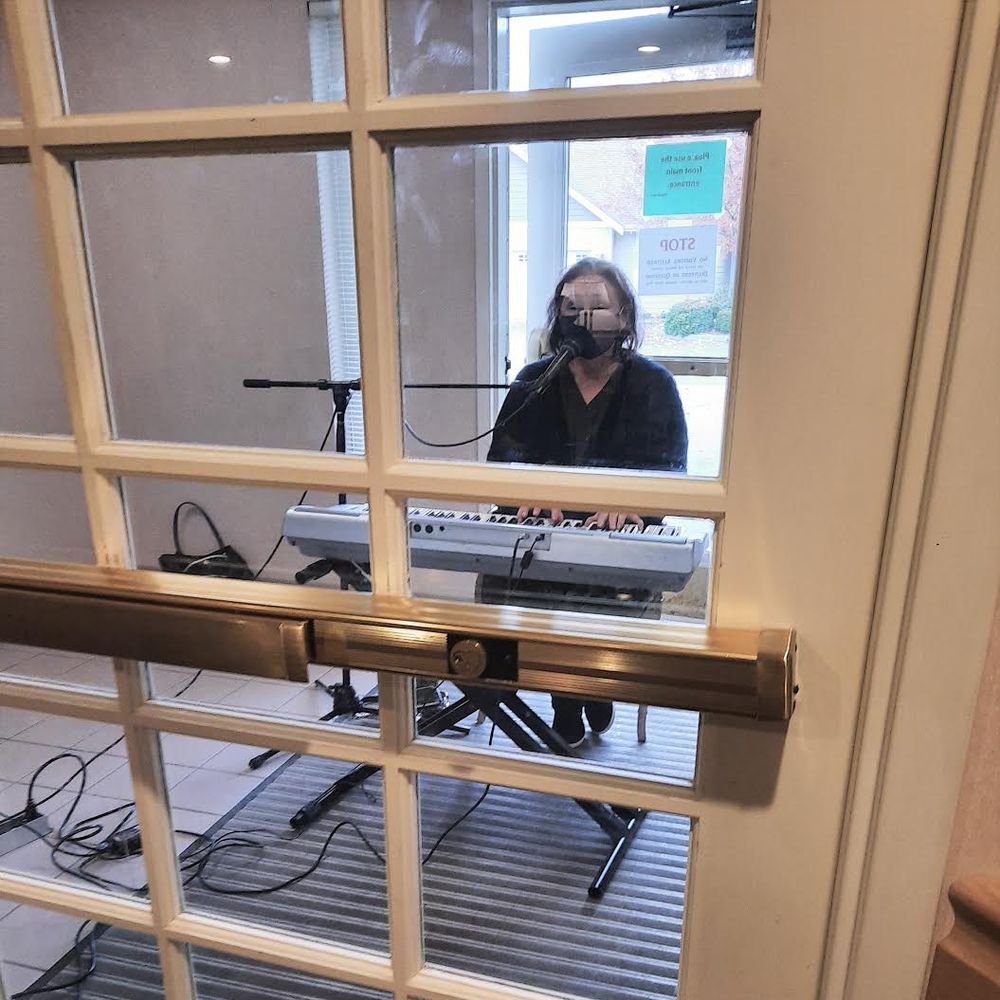 We're very much alive during COVID! Check out our Online Training Course
President, Cheryl Hodge: "During the fall/winter of 2021, I am working with elderly who suffer from dementia, even though I am not always allowed to enter a memory care facility, due to some Covid restrictions. Sometimes it will just be online classes. Sometimes, I play wearing a mask in the entry hall with the main entrance closed, and they put the speaker inside the main door where the residents can continue to take part doing vocal exercises with me; singing their favorites in a Memory Choir."
DONATE: TO DONATE to program, CLICK HERE (THANKS)
TRAINING:  TAKE OUR ONLINE 12 WEEK TRAINING PROGRAM 
FOLLOW US ON: TWITTER, FACEBOOK & INSTAGRAM!
FREE SONG DOWNLOADS:  Compliments of the house. On this webpage are some of your elderly friend's favorite songs for you to download for them to listen to and sing along with! These are public domain songs recorded by me that are copyright free! Very helpful for improving memory!
BENEFIT CONCERT:  Don't miss the amazing JAZZ & BLUES ALLSTAR Benefit Concert for Dementia Singalong Therapy - and help someone you might know with dementia. (Filmed at the FireHouse in Bellingham, WA) 
QUOTES ABOUT THE ONLINE TRAINING PROGRAM:
"I am delighted that Cheryl Hodge, a brilliant jazz musician, is offering this program to persons experiencing dementia, and their caregivers. I strongly recommend this program. Enjoy!" - Bree Johnston MD, MPH, Clinical Professor of Medicine, University of Washington
"Personally, in watching this almost magical chemistry between Cheryl (as tutor) and my wife Karen (as "student") I have witnessed some wonderful results. All the songs evidently bring back some recall of past experience. For example, Karen's favorite song is "Moon River". In singing this song with Cheryl, I see Karen's face and smile light up with what looks like absolute ecstasy." - Ray McInnis, Professor Emeritus, Western Washington University
MISSION STATEMENT:
The Dementia Singalong Therapy Program is dedicated to sharing memory enhancing techniques for people living with dementia-related diseases and brain damage. This is done through a series of exercises which help to strengthen the brain's memory and communication processes. We empower residents in houses and memory care units to create meaningful experiences which help to expand awareness and impart a sense of hope in the community.
We are both a Federal Charity 501(c)(3) and a non-profit in the state of Washington.
Purchase Cheryl Hodge's new song about Dementia: "To Walk In My Shoes (Dementia Blues)" 
Thank you so much for your interest in supporting the program we have developed. Donations are tax deductible!
OUR GOALS
• Create ways to give residents and patients a sense of purpose.  
• Inspire caregivers and loved ones to find value in helping the individual in need to communicate more effectively
• Reduce loneliness, boredom, and a feeling of disconnection common in people living with dementia.
• Educate community and improve community awareness.
• Change the way dementia is viewed; not as a setback but as an opportunity to grow.